Magic 2015 – Duels of the Planeswalkers has been officially announced, coming this summer for the Xbox One, Xbox 360, PC, iPad, Android and Kindle.
It was about time for Wizards of the Coast to reveal this year's digital version of their popular card battling game, and its seems like the title is skipping PlayStation platforms this time around.
The upcoming installment in the digital series has the tagline "Hunt Bigger Game," and as such, revolves around Garruk Wildspeaker, one of the major characters in the Magic Multiverse, as can be seen in the new trailer.
Players will be on the run, with the great hunter hot on their trail, but they'll also have some enhanced tools on their side to balance things out, such as the ability to build customized decks with a more robust deck builder, as well as premium booster packs, and the game will end with a climactic showdown against Garruk himself.
The Duels of the Planeswalkers digital series has delivered a new iteration of the insanely popular Magic: The Gathering trading card game almost every year since the first digital release in 2009.
Magic 2015 – Duels of the Planeswalkers will be present at this weekend's PAX East convention taking place in Boston.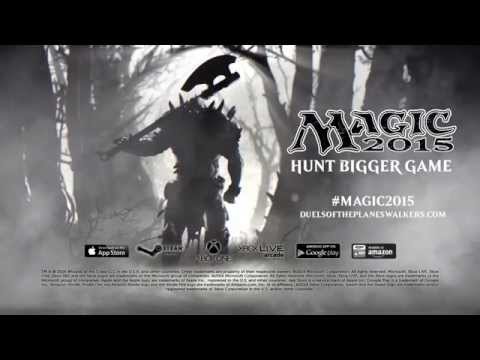 Play Video