Hatsune Miku: Project DIVA F 2nd is making its way to the west later this year, Sega has announced to the delight of the virtual diva's fans.
The news came over Sega's blog, and was also accompanied by a nice trailer showing the virtual pop star returning to western markets and urging players to tap the screen to the rhythm of her songs.
Hatsune Miku: Project DIVA F has been met with fantastic enthusiasm in both North America and Europe when it was made available on the PlayStation 3 and PlayStation Vita platforms, and now players have something new to look forward to, as the sequel will be coming their way later this year.
This fall, Sega will release Hatsune Miku: Project DIVA F 2nd for both the PlayStation 3 and the PlayStation Vita, with similar but greatly improved gameplay and an expanded collection of over 40 songs, among which both new ones as well as a selection of the most popular classic ones, previously only available in Japanese releases.
Apart from the new songs and four difficulty levels for each track, players will also be able to build their own videos and rhythm games in the Edit Mode, an impressive tool which allows access to all of the game's features and allows gamers to share their creations with the entire world.
Additionally, in order to express its gratitude toward western customers, Sega has also announced that both the PlayStation Vita and PlayStation 3 versions of the game will come with physical copies, as previously many PS Vita owners wished one would be available for them to enjoy.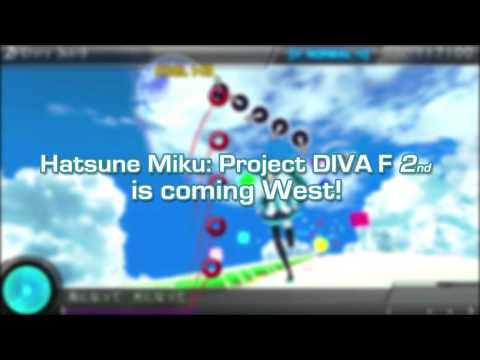 Play Video